Return of Cleopatra & Power Angels Orgasmagas Attack

Clip 1 RETURN OF CLEOPATRA!
The sultry Jessica Jaymes is back as the recently resurrected Queen of the Nile, Cleopatra…now bent on enslaving all of Arkham Heights superheroines. Tonight's sexual play toy is Melissa Jacobs as the ever spunky KnightGirl. Cleopatra wastes no time in subduing the caped crusader, using an enchantment spell and the glowing jewel in her head dress to lull the sexy sidekick under her control. Once she has her prey entranced, Cleopatra commands KnightGirl to worship her sexy legs and feet. KnightGirl obeys her new mistress and willingly showers the Queen with kisses up and down her long, silky legs. The two share a kiss, but Cleopatra has bigger plans in store and blows a potion laced kiss into the Girl Wonder's face…sending her off to dreamland. KnightGirl awakens. Bound and struggling to get free, she is soon at the mercy of Cleopatra's vibra wand…and she forces KnightGirl into an intense, body shaking orgasm. Weakened by her intense climax…Cleopatra now tells her that the next orgasm will make KnightGirl her sex slave forever. KnightGirl is powerless to resist the buzzing on top over spandex clad clit and has yet another mind numbing orgasm that renders her Cleopatra's personal sex slave forever.
Clip 2 POWER ANGELS ORGASMAGAS ATTACK!
In the second half of our double feature, we find the yellow (Brett Rossi) and pink (Dani Daniels) Power Angels sleeping in a room that is filled with the nefarious OrgasmaGas. They awaken and soon find themselves under the spell of the carnal concoction and cant seem to keep their hands off themselves or each other. Their horniness escalates when they find two vibra wands waiting for them to use to satisfy their every desire. At first, the Power Angels are embarrassed by their inappropriate actions…but soon they are overwhelmed with passion and begin grinding their lycra clad labias against their vibrators. They have multiple climaxes, causing visible wet spots in their yellow and pink power suits. They begin vibrating each other and passionately kissing as each new orgasm rocks their sexy, shiny bodies. They finally have one last dual climax that sends them both back to dreamland. MODELS: Jessica Jaymes, Melissa Jacobs, Brett Rossi, Dani Daniels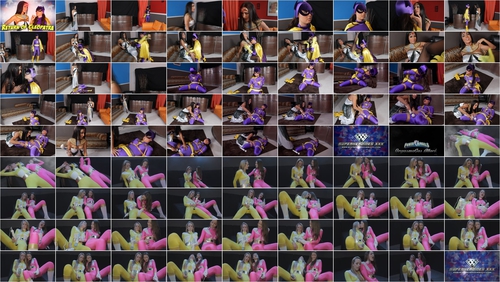 Format : Windows Media
File Size : 600 MB
Duration : 00:20:05
Resolution : 1280×720
Download from Keep2share : http://k2s.cc/file/237fe4901ae4e/Return_of_Cleopatra___Power_Angels_Orgasmagas_Attack.wmv